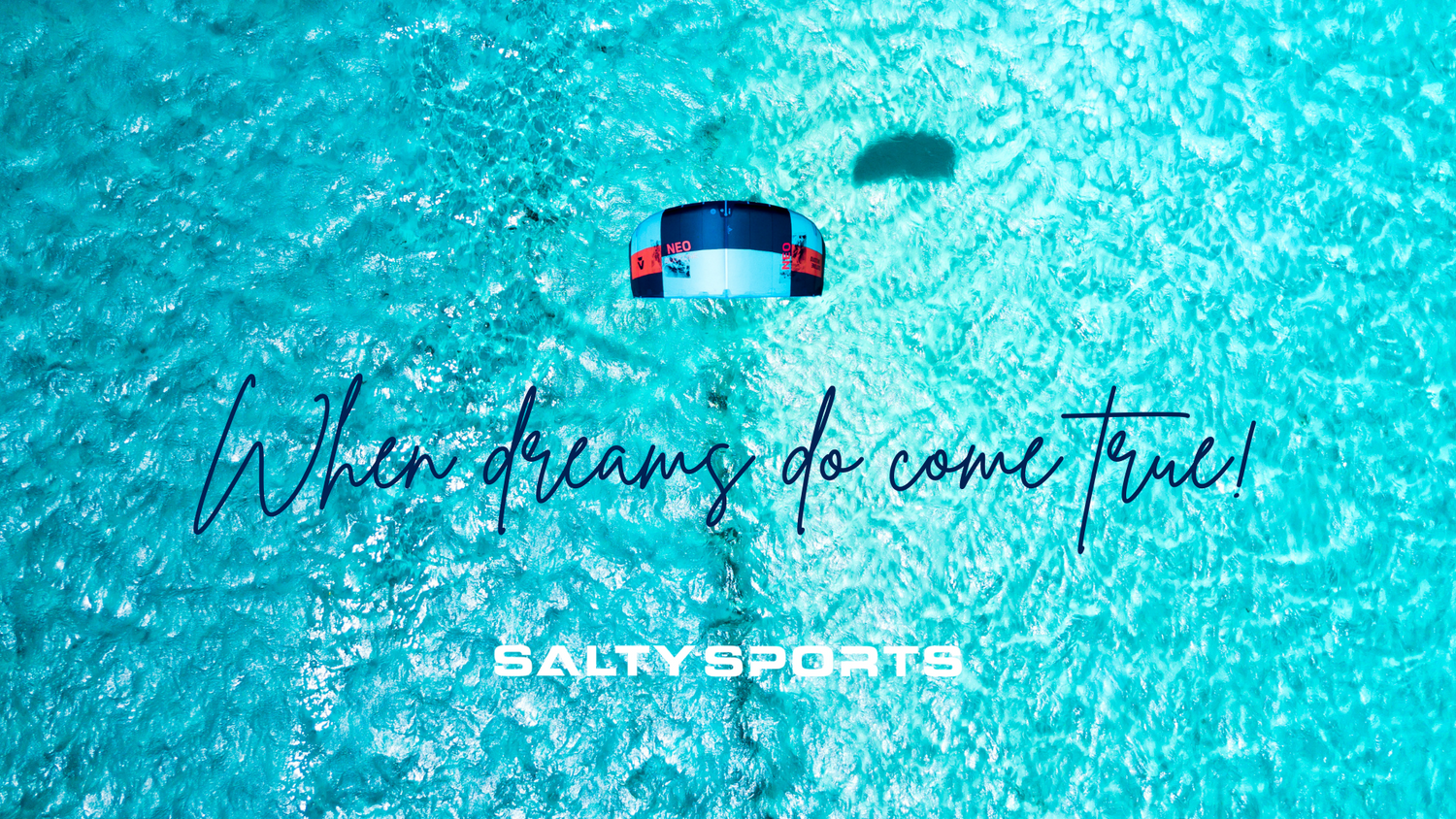 5 ☆ Platinum Kite Safari
Imagine waking up with the sun, leaving all your stress behind and adapting your daily schedule to the wind and elements. Indulge into a week full of kitesurfing at the beautiful, turquoise Red Sea. Kitesurf whenever the wind blows, swim with the dolphins, taste the delicious local food, laugh with friends, create memories for life and surf into the sunset.

Welcome to Salty Sports Kite Safaris – a dream come true for every passionate kitesurfer.

We believe, that spending quality time, doing what you love, refilling your energy, relaxing your mind is one of the most precious gifts we could provide for our clients. That's why, as soon as you leave the airport, until we drop you off again at the airport, everything is organized for you from A-Z and you don't have to worry about a thing. Maybe only which kite size you are going to choose, but of course we will support you in any direction!

Our team is having more than 20 years of experience within the water sports and tourism industry. We know the spots, the secret treasure islands of the Red Sea and what makes an exclusive Kite Safari extraordinary.

Our aim is to make your vacation one of a kind, that will exceed all of your expectations, makes you spend countless hours on the water, doing what you love all daylong and that you leave this Safari with nothing but big smiles!

Less Stress, MORE SALTY!
Your home for a week by the sea.
Think of our luxury yacht as a hotel on the water, where you can sleep, eat and relax onboard, plus spend your days kitesurfing at some of the most beautiful kitespots of the Red Sea. In between go snorkeling, diving, fishing or simply relax on the rooftop and enjoy the beautiful nature. Kitesurf around the Red Sea in style and on board of our modern and luxury yacht.
MY TURQUOISE ⎈ Platinum Steel Super-Yacht
5 ☆ SUPER-YACHT

A jewel of the Red Sea: stylish, elegant, modern, classy, speedy and very spacious. Comfort framed into the piece-of-art design, attention to details, impeccable service, excellent food, the newest equipment – everything you need to enjoy your ultimate kite safari experience. Build in 2021, with a length of 45м and a Beam of 9.2м, made out of steel, the latest technical features and equipment, you will ship safely through the beautiful Red Sea.

KEY FEATURES

• 5 Decks • 17 very spacious air-conditioned luxury rooms with en-suite bathrooms & shower cabins • 6 suites, 11 twin cabins • Restaurant • Excellent food • On board bakery with fresh pastry daily • 2 Bars • Spacious AC salon with 65" TV, DVD, Radio, free WiFi & sound system • 4 Spacious sun lounges with comfortable sun-beds • Jacuzzi • 2 Speedboats • Zodiac • Collection of inflatable water toys • Well-trained crew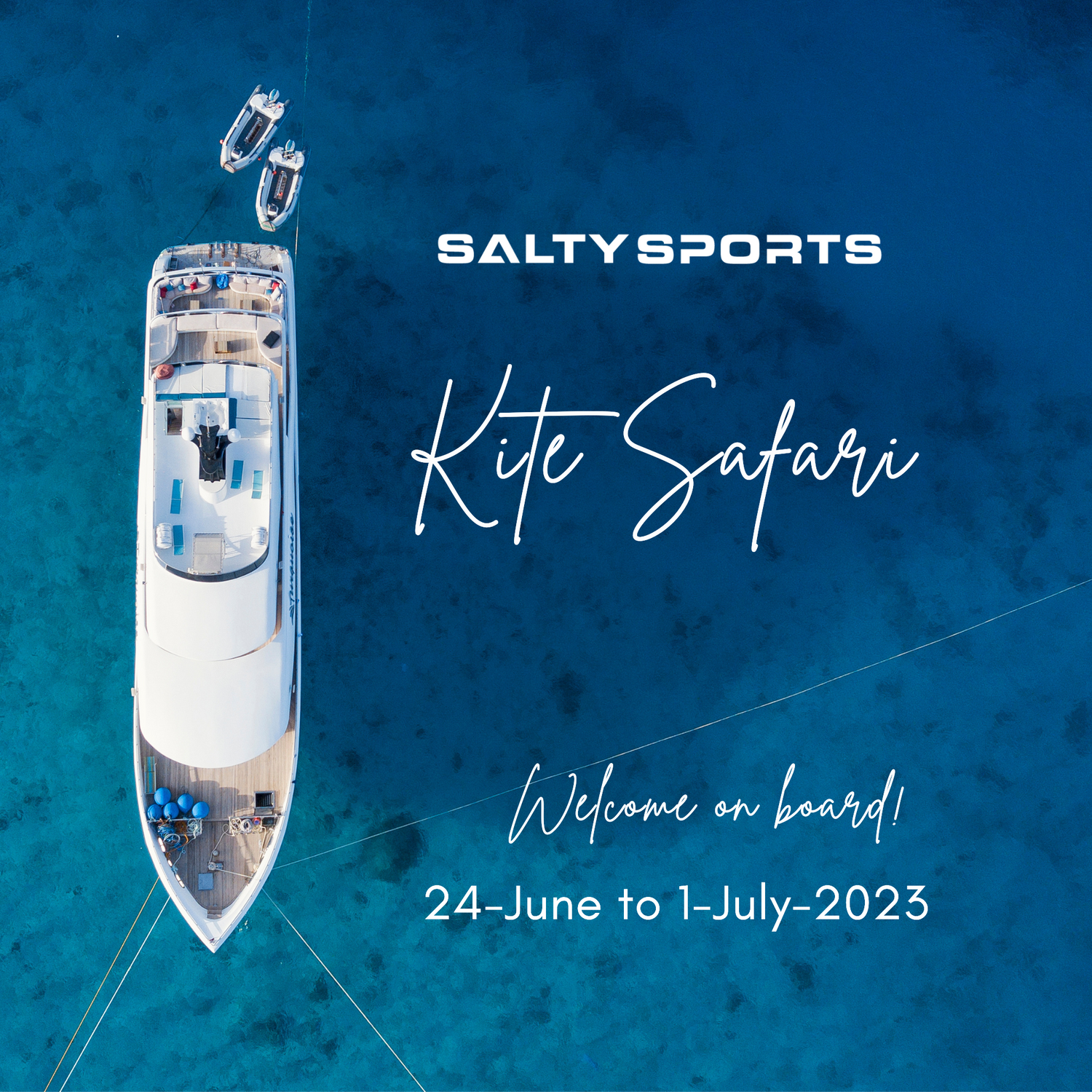 Safari Dates
Trip Date:
24-June to 1-July-2023
Check-In:
Saturday 24-June after 6PM, for dinner
Check-Out:
Saturday 1-July before 10AM, after breakfast
Details
INCLUDED

• 7 Days | 6 Nights on 5 ☆ Yacht

• Double Room inside 600KD

• Double Room outside 750KD

• Single Room 900KD

• Private Airport Pickup | Transfer
• Deluxe cabin
• Breakfast, lunch, dinner, snacks*
• Coffee, tea, water, soda, juices**
• Kite storage
• Beach service & rescue boat
• IKO Kitesurfing License for all participants
• Yacht | Service Team
• Daily housekeeping


* If you have any allergies or special food requests, please let us know.

**Please note that no alcohol will be served on this safari trip.
10% EARLY BIRD DISCOUNT if total payment is done until the end of February 2023. For details, please contact us.
WhatsApp us 📲
Services
Kite Lessons

From zero to hero in one week with exclusive private- as well as semi-private lessons by highly qualified IKO kitesurf instructors. Get ready for an intensive week of kitesurfing and become an independent rider in no time, at the beautiful Red Sea.

Equipment Rental

If you're joining the trip without your own equipment, you can rent it from us. If you purchase a full kite equipment set from Salty Sports BEFORE the kite safari, you will get 10% off on the total equipment price at our shop at Marina Waves

Beach Service

Our experienced team will assist you while launching and landing your kite. They will help you to set up your equipment and take well care of it, once you finish kitesurfing for the day. A rescue zodiac is at the spot to support you when needed.

Are you ready for it?
Salty Sports is offering only a limited amount of spots, as we don't fill the boat with the full capacity, in order to provide enough privacy and space for every participant. Like this, we can provide services and space on a luxury level.
Therefor, please make your booking as soon as possible.
CONTACT US TO SECURE YOUR SPOT!
Please fill out the reservation request below to start your booking. After reviewing your request, we will contact you within 24 hours to discuss all further details.
We are looking forward to welcome you on board.