Kiteboarding Lessons
Salty Sports offers premium private, semi-private, and group lessons for beginners who would like to learn kitesurfing, as well as Check-Up & Tricks lessons for those who may need some advice to progress to the next level.
In the first hours, you will learn to fly the kite and get good kite control, while standing and while "body dragging" - you will be gently pulled by the kite and move with the kite in the water. Once you control the kite, we will add the board and start slowly with the water start, getting you into riding. Timing and progress vary from person to person, but after 6-9 hours you should be able to make the first meters
All our instructors are IKO qualified and will be with you every step of the way, in order for you to become an independent rider. Furthermore, we use radio helmets to support and guide you in every situation. 
All kitesurfing equipment is provided from our side during the course. You would only need to bring your outfit for the water, also we recommend shoes for the water, sun cream and sunglasses.
If you cancel at least 1 day (24 hours) prior to your lesson time, you will be rescheduled without penalty. If you cancel your lesson without 24-hour notice or in case of a no-show at lesson time, you are charged 100% of the lesson price. 

We reserve the right to cancel lessons any time up to and during the lesson, if the weather conditions are no longer suitable, e.g. there is no wind or there is not enough.

Furthermore, you must be in the best of health, a good swimmer and also able to swim in open water. Salty Sports takes no responsibility for property damages or bodily injury of any kind.
For kitesurfing lessons, please leave us your contact details below or contact us through
WHATSAPP.
See you on the water.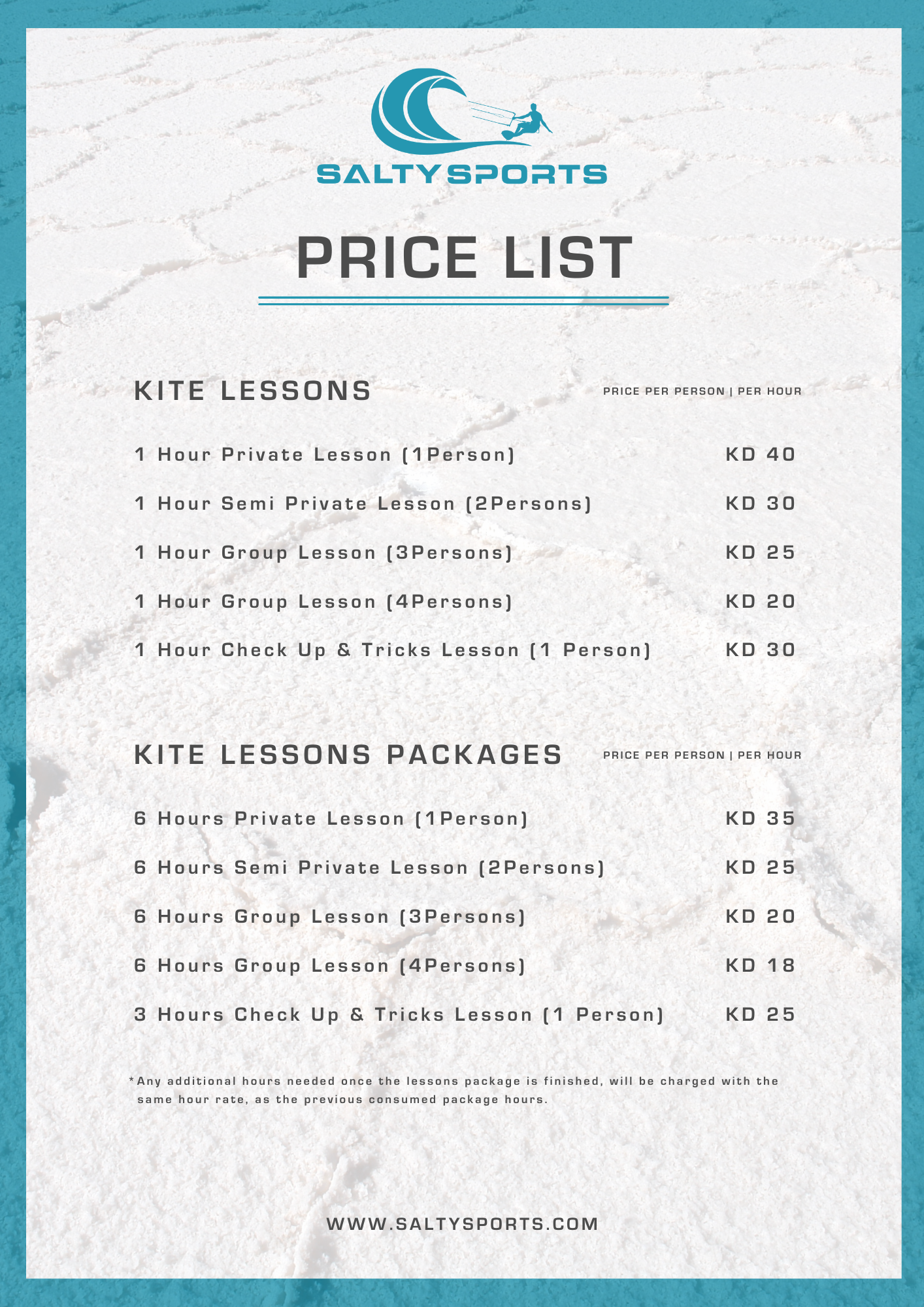 Time to fly high!
Choose between premium private, semi-private or group lessons. If you take more than six hours there is also a discount | package price and we charge per hour, as lessons always depend on the wind.
WhatsApp us 📲
Get ready for the water!
Regular price

Sale price

36.000 KD

Unit price

per