Fliteboard Lessons
Salty Sports offers premium private, semi-private, and group lessons for beginners, who would like to learn how to fly above water with the Fliteboard eFoil. 
1 hour introduction lesson is a quick trial to get an idea what Fliteboard is all about and to discover the first steps.
The 2 hours Fliteboard lessons will include a short theoretical E-foil & safety introduction. You will get to know the foiling theory, choosing suitable locations, pre-flite checklists, and all the necessary skills and techniques, to fly above water. 

 
Our instructors will be with you every step of the way, in order for you to achieve your goal on your Fliteboard. Furthermore, we use radio helmets to support and guide you in every situation.
All Fliteboard equipment, as well as an impact vest and helmet, is provided from our side during the lesson. You would only need to bring your outfit for the water, sun cream and sunglasses.
The maximum number of participants during a group lesson are four persons. Minimum age to participate is 13 years. Participants aged 13 to 16 need parent or guardian consent. Maximum participant weight is 100kg.
Prices are listed below. If you cancel at least 1 day (24 hours) prior to your lesson time, you will be rescheduled without penalty. If you cancel your lesson without 24-hour notice or in case of a no-show at lesson time, you are charged 100% of the lesson price.
We reserve the right to cancel lessons any time up to and during the lesson, if the weather conditions are no longer suitable.
Furthermore, you must be in the best of health and able to swim. Salty Sports takes no responsibility for property damages or bodily injury of any kind.
For Fliteboard lessons, please leave us your contact details below or contact us through WHATSAPP . See you on the water.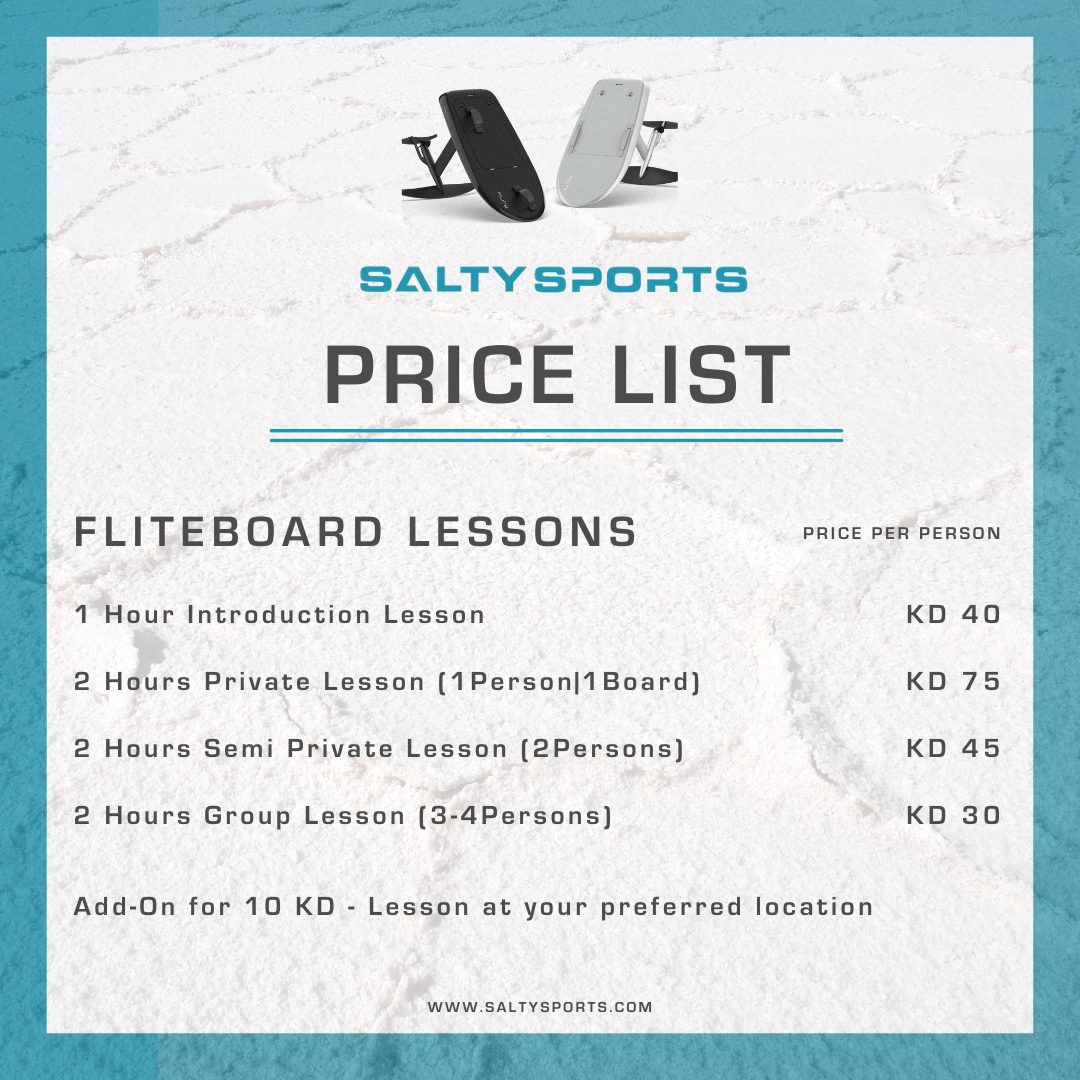 Time to fly!
Choose between premium private, semi-private or group lessons. For an extra ADD-On of 10 KD, the lesson can take place at your preferred location. Minimum water depth required for the eFoil is 1.5 Meter.
WhatsApp us 📲